SASKERS specializes in inspections and repairs of membrane structures. In the first stage of the order, we perform a detailed inspection of the technical condition of the roof. Then we proceed to carry out the necessary repairs and maintenance works. We guarantee the restoration of the membrane roofing to full efficiency and durability.
PRECISE CONDITION INSPECTION - THE KEY TO EFFECTIVENESS
The first stage of our operations involves a detailed inspection of the technical condition of membrane structures. We employ advanced technologies and tools to thoroughly assess all aspects of the roof's condition. During this inspection, we analyze various elements, including the state of the membranes, seals, load-bearing structures, and other factors influencing durability and resilience. Based on the inspection results, we develop a repair and maintenance plan tailored to the individual needs of each membrane roof. Our experienced professionals then proceed to carry out the necessary repairs and maintenance tasks. We utilize the latest techniques and materials to ensure the longevity and optimal functionality of membrane structures.
QUALITY CONTROL AND COMPREHENSIVE TASK MANAGEMENT
We guarantee that after our interventions, membrane roofs will regain their full functionality and durability. Our work is meticulously monitored, and every stage is executed with the utmost care. For our company, no task is too small or too large. We handle membrane roofs on both private buildings and industrial or public utility facilities. Our knowledge, experience, and dedication enable us to meet even the most demanding projects. It is worth noting that we prioritize not only the quality of our services but also punctuality and safety in our work. Clients who choose our services can rest assured that their membrane roofs are in the best hands.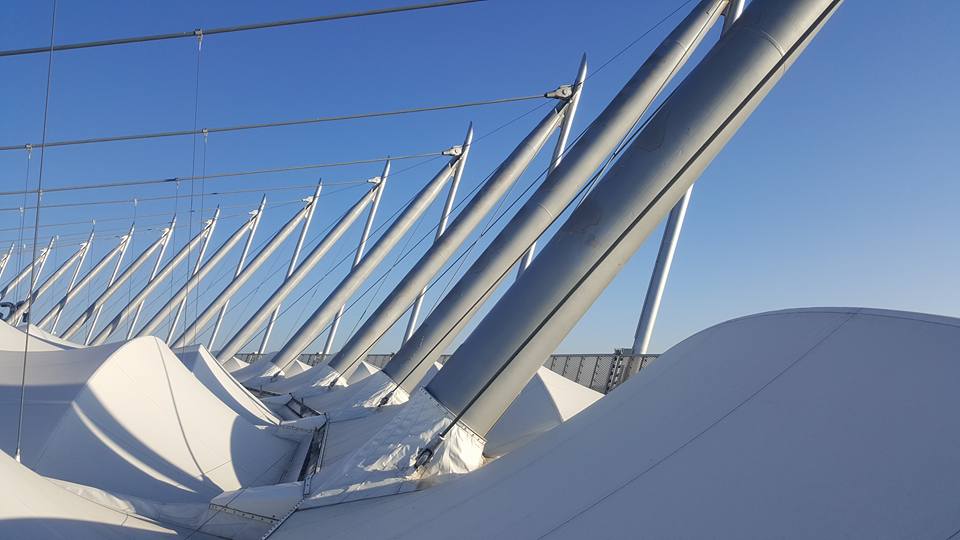 Structural roofing - what is it about
Membrane structures or roofs, otherwise known as structural roofs, is a technique of roofing with the use of membranes stretched on a special structure, most often made of metal. The membrane is made of PVC technical fabric coated with PVDF (polyvinylidene fluoride). It is a durable, flexible and easy-to-form material. These features make it an ideal material for roofing with complex shapes resembling forms naturally occurring in nature or with very modern shapes giving the character of a covered building.
Membrane structures - future roofs
The basic features of structural roofs include high resistance to weather conditions with a relatively low weight. They perfectly protect against rain and wind, while transmitting light and protecting against harsh sun without too much darkening. They are easy to clean, do not mold and are resistant to ultraviolet radiation. It is not without significance that the membranes have self-cleaning properties, do not change size and are not flammable. The advantages of membrane structures are durability and resistance to weather conditions. Roofing with a membrane fabric on steel structures is an increasingly common method of roofing facilities, especially sports facilities, such as swimming pools, courts, sports halls and stadiums, as well as public facilities such as amphitheaters, outdoor stages, parking lots, railway stations and playgrounds.
How can we help you?
We offer a full range of renovation and maintenance works for membrane roofs, both for technical fabrics and for structures made of metal. We also carry out professional inspections of membrane structures using mountaineering methods and lifts. We have carried out inspections and repairs on the roof many times PGE Narodowy and other facilities, so we have experience.
Please contact us on the valuation of works range or consultation. You can call us and arrange the details: +48 660 824 999 or +48 501 288 080