Protective nets are not only a simple means of protection but also a versatile tool used for separation, safeguarding, and marking off areas in various industries and applications. Their functions are diverse and encompass many aspects, making them indispensable in many situations.
Separation and full visibility: The primary function of protective nets is to separate one part of an area from another while maintaining full visibility. This is an extremely useful feature in situations where isolating an area is necessary, but visual control needs to be retained. An example could be the use of nets on a construction site, where a safety zone can be delineated while still monitoring work progress.
Transparency and ventilation: Protective nets are also characterized by transparency and full air circulation. As a result, they do not restrict airflow or natural lighting. This is particularly important in industrial applications where maintaining suitable environmental conditions is crucial for production processes.
Safety and durability: Protective nets are exceptionally durable and resistant to atmospheric conditions and external factors. This makes them suitable for various conditions, from construction sites to outdoor events. They are also resistant to mechanical damage and wear, allowing for long-term use.
Signage and advertising: Another advantage of protective nets is the ability to display company logos or advertisements on them. This is an excellent solution for mass events, festivals, or conferences where available surfaces can be utilized for brand promotion. These nets serve not only protective but also marketing functions.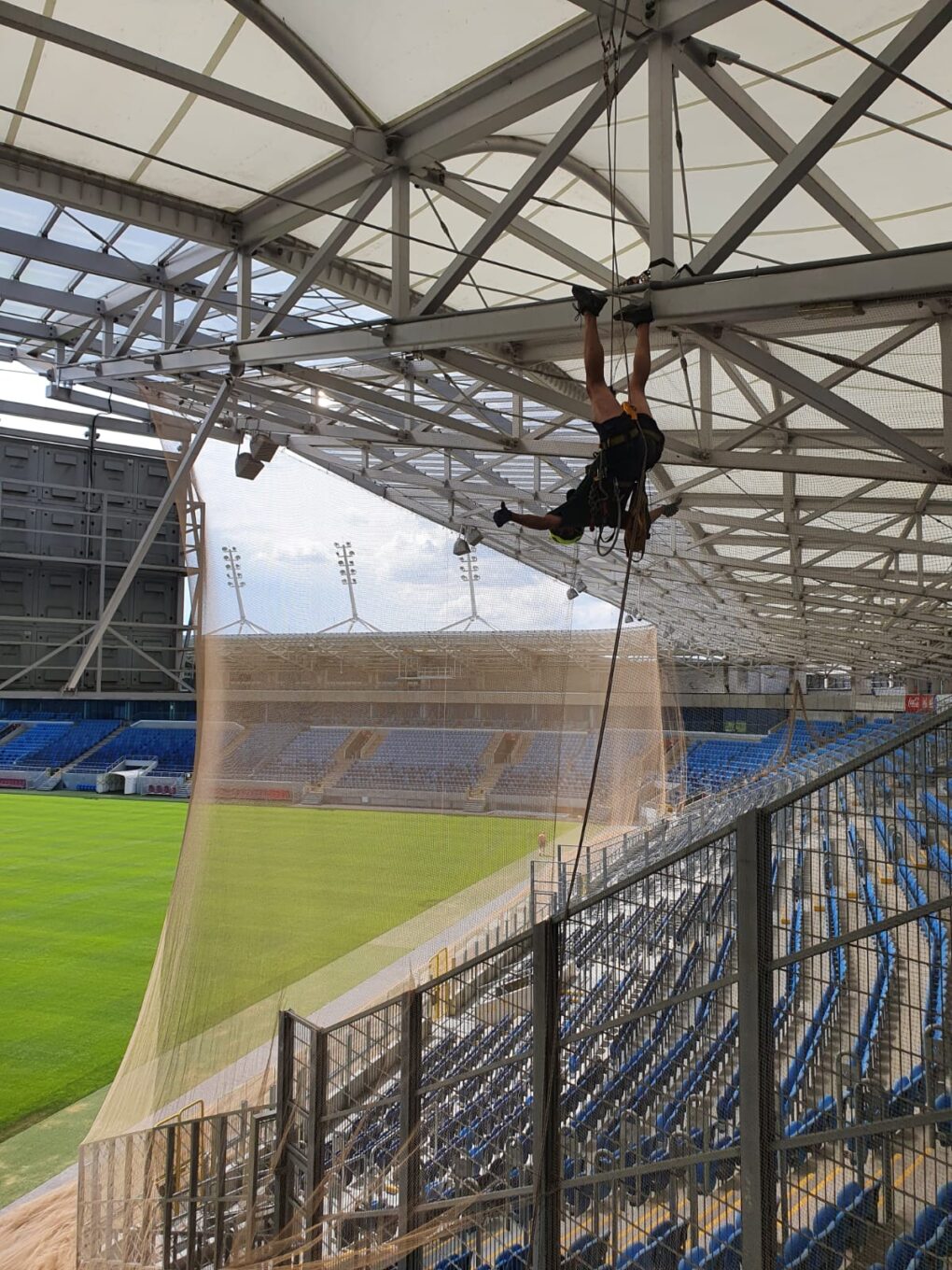 When is it useful to install a safety net?
The first use of safety nets is to separate the stands from the pitch. This is primarily to protect matches in stadiums or sports arenas against pyrotechnics and other items thrown by hooligans onto the pitch.
Sports facilities can also be divided into smaller zones with protective nets. If several training sessions take place in a large hall, and the space is sufficient, then such a division allows free training of several teams without blocking the light and without deteriorating the air flow.
Another idea to use protective nets is to secure all assembly and renovation works. With the scaffoldings set up, these types of nets do not allow debris, building materials, boards or other elements to fall out of the scaffolding and damage the body of passers-by. In addition, such nets clearly allow you to keep order on construction and renovation sites. If it is necessary to isolate some objects from birds - such protection fulfills its role perfectly, and the object is not completely covered.
Additionally, nets are often used to protect structures in halls or as protection against birds in various facilities.
We are experienced in assembling of safety nets
We have many years of professional experience in high-altitude installations of safety nets. We install horizontal and vertical nets: stadium, construction, renovation, anti-bird and other nets. Our scope of work ranges from small to meshes up to 20,000 m². We have all the necessary tests, SEP electrical qualifications for installation at heights and knowledge of the English language.
Thus, we are able to professionally carry out orders in Warsaw, Poland and the entire European Union using the latest equipment for mountaineering work with approvals. Contact us for a free service quote.
Call us: +48 660 824 999 or +48 501 288 080 or use contact form and let us agree a solution tailored just for you!