Steel ropes are in many cases a key element of steel structures. They have a supporting function and therefore it is necessary to keep them in perfect condition. Inspecting and servicing the ropes can be cumbersome, especially when you need to use mountaineering techniques. Therefore, SASKERS has long been looking for a solution to facilitate such reviews, without losing the accuracy of such tests.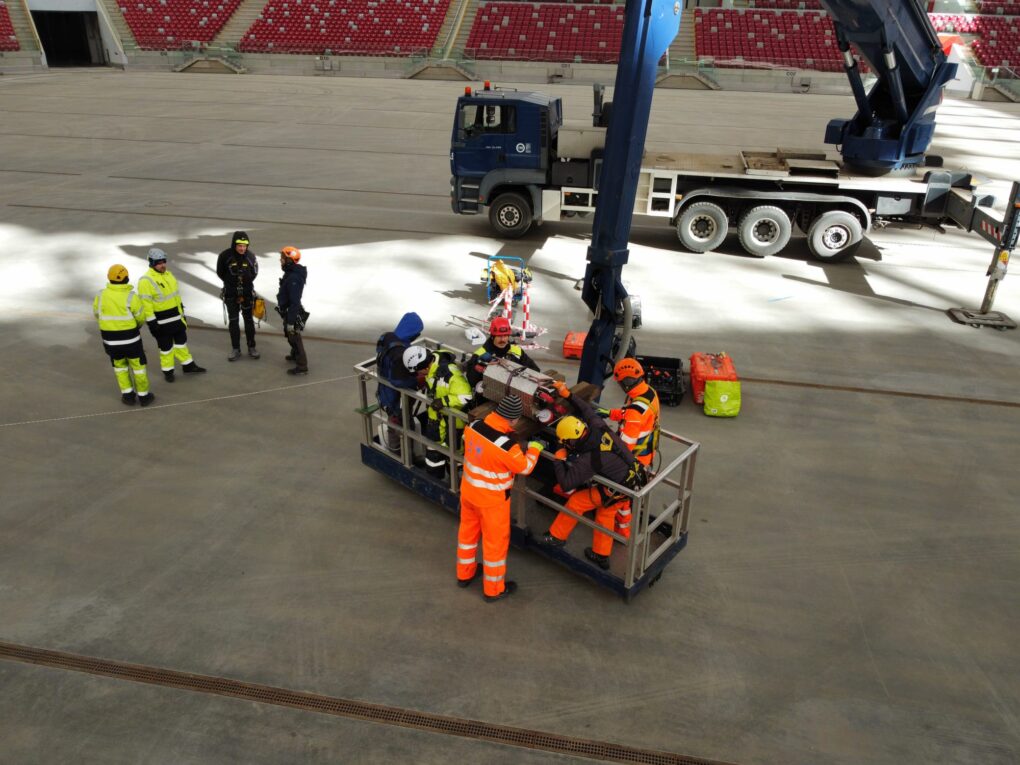 Why MRT?
As part of steel structures inspections, wykonujemy badania lin stalowych z wykorzystaniem urządzenia MRT. Usługi badania lin LRM wykonywane są przez firmę SASKERS z wykorzystaniem systemu ciągnącego LRM, we współpracy z LRM-NDE laboratory. Badanie lin z wykorzystaniem systemu LRM pozwala na uzyskanie informacji o ich stanie technicznym. Wykrycie osłabionych odcinków lin jest przy użyciu technologii MRT o wiele łatwiejsze. Ogromną korzyścią jest możliwość regularnych badań w celu wykrycia elementów skorodowanych, uszkodzonych lub całkowicie zerwanych, zanim konstrukcja ulegnie trwałemu uszkodzeniu lub zniszczeniu.
What is wire rope testing - MRT?
Specjalna głowica pomiarowa z aparaturą jest umieszczana na linie stalowej i uruchamiany przejazd. Badanie umożliwia wykrycie podłużnych zmian przekroju liny z powodu korozji i zużycia oraz zmian lokalnych, na przykład zerwań drutów, wżerów z powodu korozji i innych uszkodzeń. Rezultaty takiego testu są bardzo dokładne i znakomicie służą jako materiał do remontów konstrukcji stalowych opartych na linach. Z racji tego, iż do sprawdzania lin wykorzystuje się technikę magnetyczną, żadna powłoka zabezpieczająca przed korozją czy smar nie wpływa na dokładność badania.
Check the wire ropes in your construction
The steel carrying ropes of the structure are very important elements. Due to work in changing weather conditions, steel ropes as an element of suspended structures are exposed to much faster wear. Their technical condition has a major impact on the continuous, failure-free operation and the safety of people using the facility. Therefore, the most important issue is an effective method of cable operation safety assessment.
Call us instantly +48 660 824 999 or +48 501 288 080 We advice you to contact with SASKERS by contact form